Last spring, a mutual friend invited some folks to his home for dinner, and we got to talking—about how Alex created educational curricula for urban development and the rest of the team's varied skillset—and we realized we both had one common goal:
To use our skills to make learning relevant and fun.
From the discussions that followed over coffee, beer, and the occasional chocolate chip cookie, we decided to build a network of virtual maker spaces where kids can play games to learn, then make games to share.
And RealityNext was born.
Our Founding Team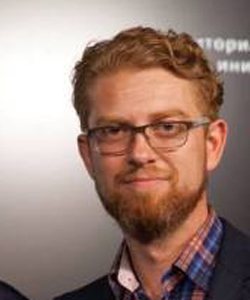 Alex Stolyarik
Co-Founder
Alex Stolyarik has spent nearly a decade implementing project-based experiential education internationally. In 2011, as a member of the Democracy and Art nonprofit, he originated a joint venture between the British "London Metropolitan University" MARCH and the Russian Academy of National Economy and Public Administration. A year later he launched a test program designed to engage graduate students with "real-world" land development projects. In three years of program refinement, he and his team organically grew neighborhood development collectives, jump-started public workshops, and graduated 80 students with dual degrees in Public Administration and Planning.
Alex holds a joint Master's of Science from MIT and
Harvard Business School.
What I believe is possible: With recent advancements in Virtual Reality technology, we have the advantage to experience our world from the new "inside-out/outside-in" dimension. We can erase borders and practice our global intracultural future immersively, as in "for real."
What I propose: Use immersive technologies, gaming and play to innovate in education ecosystems. Updated knowledge delivery can most effectively impact nonviolent human development and progress.
Why now: As an educator, I saw that it's nearly impossible to facilitate and simultaneously explore different scenarios of project development in real-time experiential education; I know from my work with schools and colleges the enormous amount of financial and human resources we spend to facilitate the "learn-by-making" algorithm. Now, with the advancement of mixed realities, artificial intelligence, and virtual conferencing, we can collaborate internationally and conduct distributed education experiences in a new medium beyond the current the constraints of base reality.

Kunitake Aoki
Game Developer
Kunitake Aoki is an experienced Art Director/Game Developer who spent more than 28 years working for SEGA and Nintendo. He is a key contributor to their multi-million sales figure titles, including their Mario vs. Donkey Kong and Sonic the Hedgehog series. His passion gears toward making fun and educational software for all ages. He always stays positive, looks for new challenges, and enjoys solving problems to obtain the best results using new technologies.